You know how we love a good dynamic duo *cough* chips and queso. Well, we also love friends and food aka Friendsgiving. Friendsgiving may be a faux holiday – but we are all for celebrating the Thanksgiving season with friends. We've put together a few ideas to help you throw a stress-free and memorable Friendsgiving. The best part – these ideas are great for celebrating Thanksgiving too.
Create Invitations
Sure, it's easy to text your friends and coordinate a Friendsgiving but creating invitations that include ALL the details will ensure your guests don't miss a thing. Invitations are a great place to not only give the date and time of your event but can set the tone for attire (casual vs. dressed up) or let your guests know if this is a potluck event. If invitations aren't your thing, create a Facebook page and have your guests comment what dish they're bringing. Concerned how you'd put together invitations?
Canva
has great templates that can be printed or downloaded and sent digitally to friends! They also have Facebook cover templates to customize for your Friendsgiving. If you're not feeling creative, check out
these
ready to edit templates you can purchase.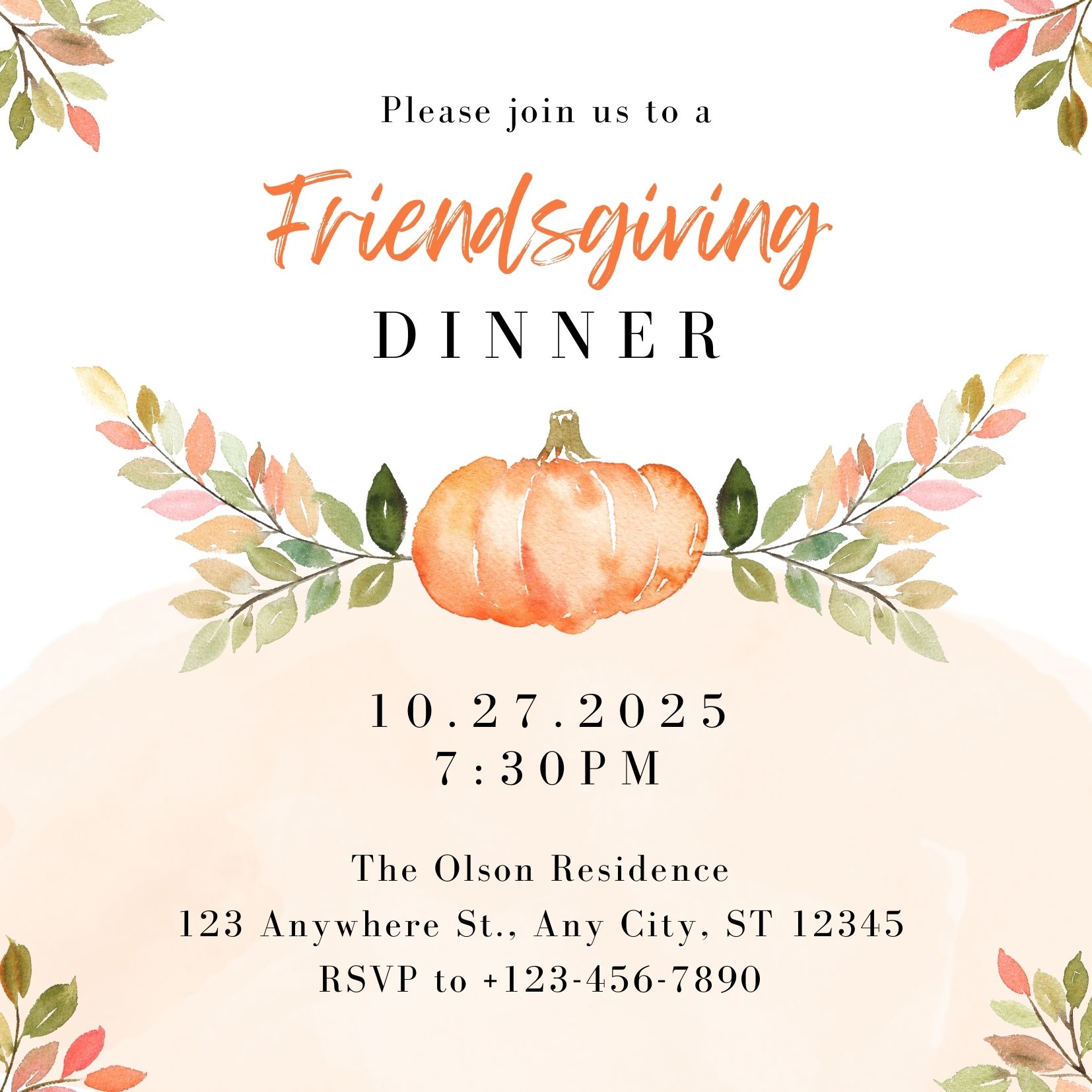 Friendsgiving invitation template from canva.com
Plan Dishes Ahead
If you're going the potluck route, let your friends sign up for dishes prior to the event. That way you'll make sure there aren't 7 appetizers of chips and queso from Salsarita's (but let's be real, that wouldn't be the worst thing to happen.) Coordinating dishes prior also allows your group to keep a cohesive spread – traditional Thanksgiving food or non-traditional food. If you're looking to feed your group, create a menu ahead of time and plan out your grocery list. Nothing is worse than running out 10 minutes before guests arrive to get the ingredients you forgot. To make things even easier, you can get Salsarita's catering. Salsarita's catering is a fun and affordable option for any event. Taco bars may not be your traditional Thanksgiving food, but we can ensure it'll be a crowd pleaser! Salsarita's Catering is a fun, affordable catering option for any event. Order online today at
cater.salsaritas.com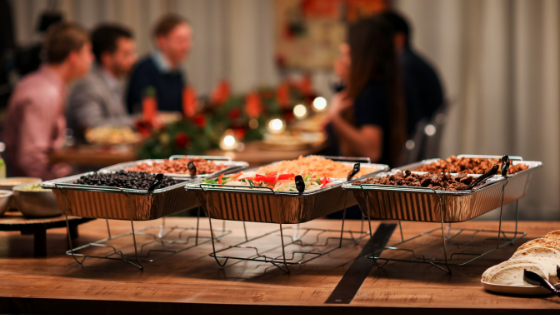 Activities
As much as we love food, a good party must have some activities. A Thanksgiving classic is to go around the room and share what you're most thankful for, if we were at your party, we'd say that we are most thankful for our Salsarita's guests! Some other interactive ideas are:
Links of Gratitude – This activity requires minimum materials, just construction paper and markers. Once the paper is cut into strips, everybody writes what they're thankful for. Once the project is complete you can visualize the importance of being thankful. perfect way to visualize the importance of being thankful.
Thanksgiving Price is Right – Guess the prices of Thanksgiving ingredients. Make it competitive with a prize for the winner!
Scavenger Hunt – Splitting into teams for this scavenger hunt will bring out the competitive side of your guests.
Card Games – There is probably a deck of cards somewhere in your house and the options are endless from there.
photo by etsy.com/shop/NaNaPrintables
Whatever your Friendsgiving and Thanksgiving celebrations look like, Salsarita's wants to wish you a happy and healthy holiday season.