We know you love your significant other but we also know you really love tacos. But falling in love with one doesn't mean you have to give up the other. When it comes time to exchange vows, make sure you're including BOTH of your true loves during your wedding day. We scoured the internet to find a few ways to keep a taco-theme during your wedding day so that you're never far from your favorite tortillas.
Here are 12 items that every taco loving bride (or groom) should have.
1 – 3. Taco 'bout A Bachelorette Party
You know you're going to need some food to go with that 'party' – and of course it would be tacos. Remind everyone how hard your Taco Tribe runs with these Bachelorette goodies.
4. Bridal Shower Invitations 
Set the mood right away before the vows even get exchanged. These Taco Shower Invitations deserve a frame themselves.
5. A Taco Ring 
Your significant other probably already got you a nice ring but having this taco version would make it twice as nice.
6. A Card for your True Love(s)
Exchange vows AND exchange gifts with a card that sums up your future together.
7. Taco Shaped Confetti
Birdseed? No. Rice? Too messy. Bubbles? Nada. Have your guests toss tacos, just in a cleaner way.
8. Taco Bar at Your Wedding Reception
We think it's so important to have an amazing Taco Bar at your Wedding Reception, so much so that we wrote a whole post on it.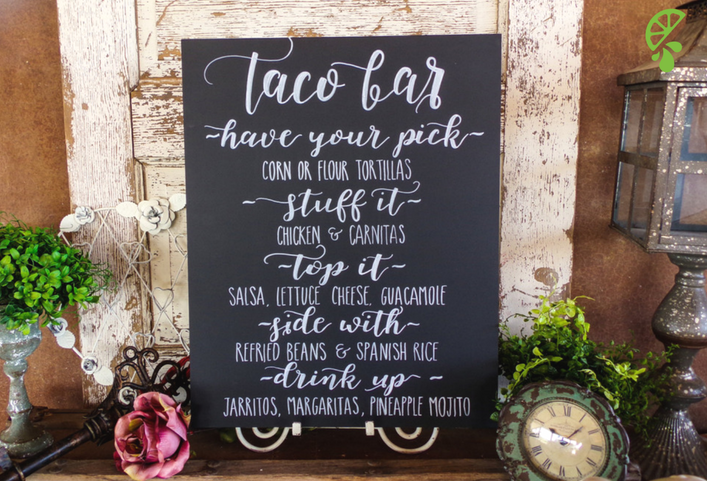 9. Taco Bar Sign Your Wedding Reception
When you order the taco bar, you'll want a cute coordinating sign to point guests in the direction of deliciousness. Sometimes being extra costs extra?
10. Taco Wedding Cake Topper
While you're eating your sweet cake, you can pretend it's a warm taco. We won't tell.
11. Mini Taco Cupcakes
Guests expect some sort of sweet at a reception and although your mind may still be on tacos, we think this is the perfect compromise.
12. Taco Reception Cups/Favors
Guests will already remember your wedding for obvious reasons but that doesn't mean you can't send them home with a taco-themed reminder.