There are countless options when it comes to choosing what food to serve at your reception. Whether you're planning a huge soiree or an intimate elopement, one thing is for certain: you have to feed your guests. Here at Salsarita's, we know a thing or two about catering. Throw everything you know about traditional wedding food away, here's why you need a taco bar at your wedding.

Budget Friendly
Forget the wedding average of $15-$22 per person for just an entrée. By the time you factor in plates, utensils, and all the logistical items you need, you've spent several thousands of dollars. For around $8-$9/person, you'll get everything you need to feed all your guests and then some.  Not to mention plate ware, serving utensils, and more.
Universally Loved
It's pretty rare to find a person that doesn't enjoy at least ONE type of taco. Whether it's shrimp, chicken, ground beef or steak, you can order the proteins that will satisfy every wedding guest. Please the kids, in-laws, and your crazy Uncle Bob in one buffet line.
Keeps Your Party Going Longer
Your reception is the best time to spend with long lost friends, relatives, and your new spouse other. It's also time to PARTY! With just a few hours to soak it all in, you don't want to waste any of that time waiting in long lines for food or to be served. Taco Bars keep the line moving by allowing each guest to throw their own toppings on and enjoy! We recommend setting the Taco Bar up at the wedding so that two lines can go down either side of the table. Now you have no excuse not to do the Cha-Cha Slide.
Toppings for Everyone
Speaking of toppings, there's a LOT of options! Think warm Mexican Rice with steamy black beans, cool crisp lettuce, fresh house made salsa with creamy cheese and sour cream. YUM. There are plenty of ways to keep your taco diet-friendly or to indulge and treat yourself.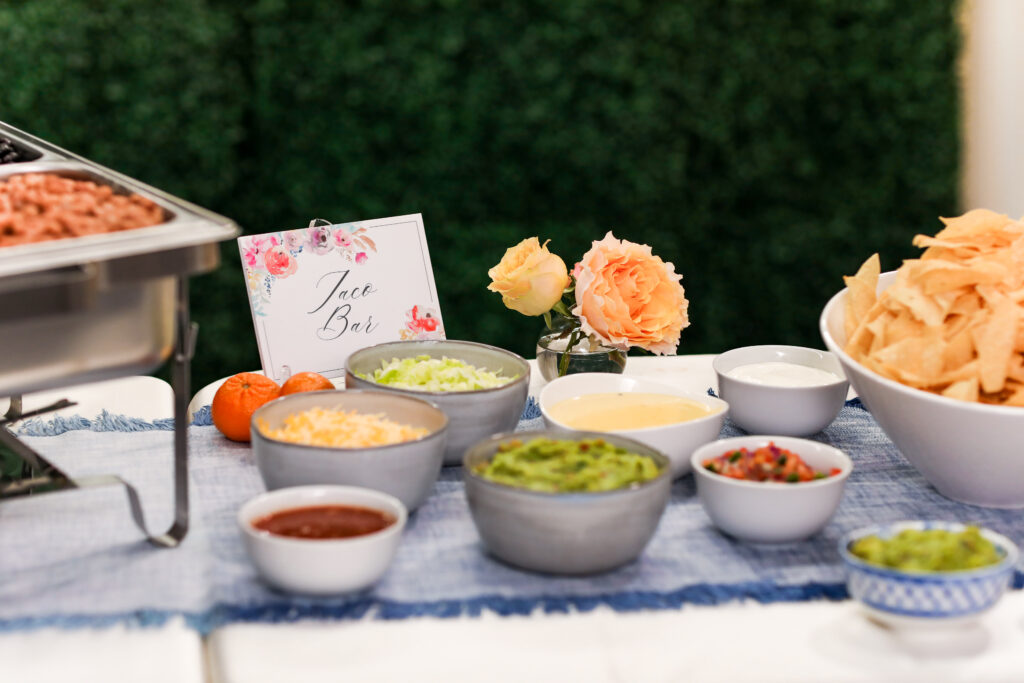 Get Creative With It
Most wedding catering is either set up behind the scenes. With a taco bar at your wedding reception, you can incorporate it into your décor! Set up the table just how you like with tablecloths, fun tabletop décor, and more. If you're looking for a cute but functional sign, we LOVE this set up from ChalkinHand on Etsy!
Don't Let The Fun Stop There
Tacos go with everything but nothing more so than margaritas. If your wedding guests are a boozy crowd, you can add a Margarita station to really get the fiesta going. Need some ideas on what margaritas to include? Check out our favorites here. If alcohol isn't your thing, or there's a lot of children on the wedding list, opt for a dessert bar instead! Featuring taco-inspired favorites such as Choco-tacos, confetti nachos, and churros!
Spice It Up
Leave your wedding guests with a lasting impression with party favors such as Cholula or other hot sauce bottles, mini bags of chips, or even cute little to-go boxes for any leftovers!
Late Night Fuel
Already have a caterer for your reception? No problem. Keep your guests fueled into the late hours with a taco bar well after the main course. It's guaranteed to keep the dancing going and cure those late-night munchies!
If tacos don't fit the bill or you're looking for something a little different, Salsarita's also offers Taco Salad bars, Fajita Bars, and an epic Nacho Bar!
Thinking about catering with us for your big day? Here's a few tips to ensure the best experience possible:
Place your order for about 5-10 people more than you need. You never know who will ignore the RSVP deadlines and that forget that you said no "+1's".
Delegate! Salsarita's will deliver to your venue, but delegate a responsible friend or relative who will help ensure the Taco Bar is set up to your liking with your décor, signs, etc. The last thing you should have to worry about is which tablecloth was used for the catering.
Plan Ahead – In your RSVP's or wedding website, consider polling your wedding guest for their preferences on salsas, toppings, and tacos! You'll get a better idea of what everyone likes so you aren't left guessing on which 3 of our house made salsas to get!
Convinced? Book your catering today!