Description:
Salsaritas Fresh Cantina – FRESH and FAST CASUAL Restaurant – – We are hiring immediately for grillers and salsa preps team members. Multiple full-time and part-time positions are available!
Grill meats, vegetables, chips and other hot food products as well as prepare and portion food products prior to cooking.
Food prep for salsas and fajita vegetables. Also perform other duties in the areas of food and final order preparation. May take orders from customers and serve guests at counters.
Why Salsarita's?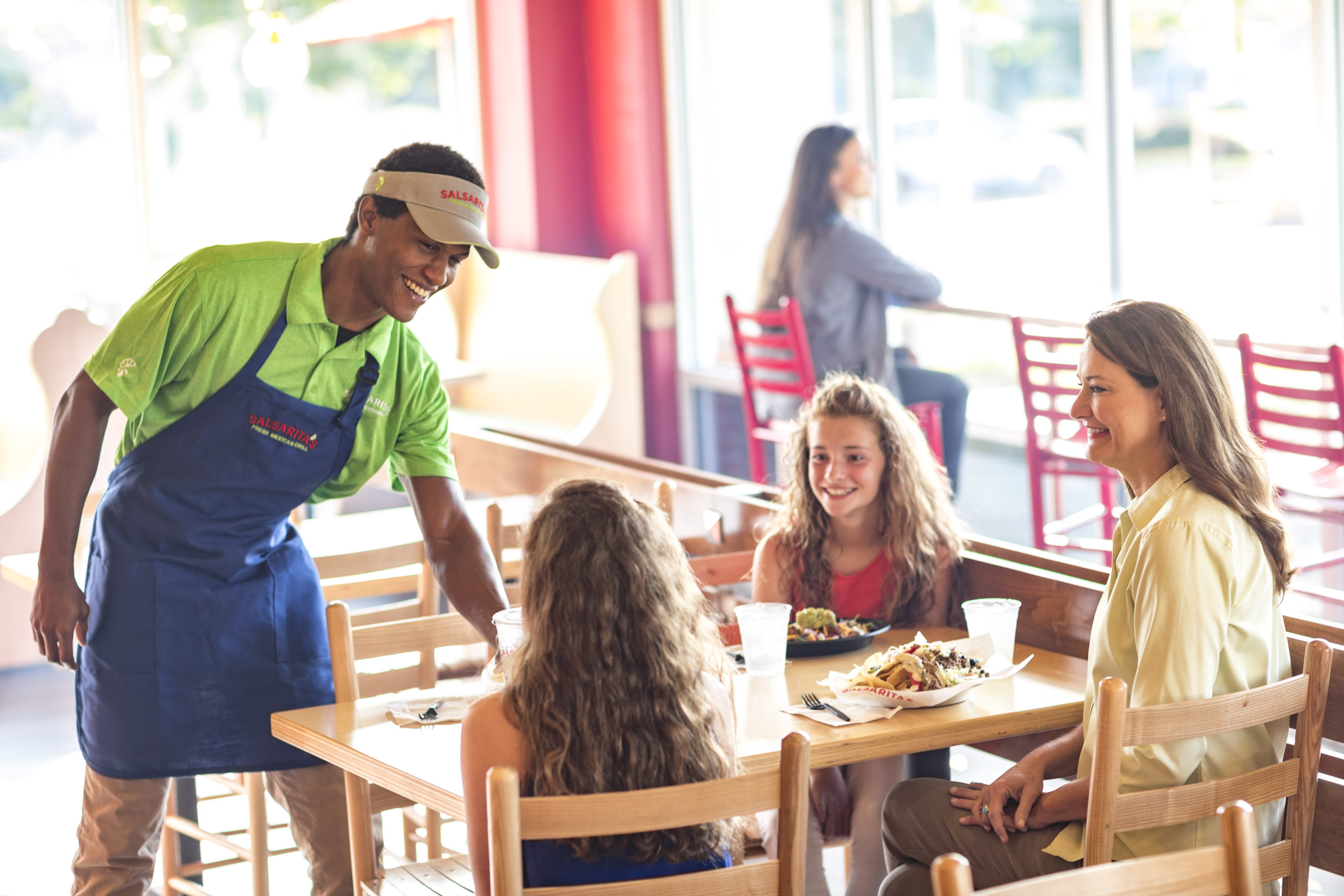 Flexible schedule
Competitive Wages $13 to $16
Excellent Team Member Tip Program in addition to Base Wages
Great Store Hours, no late-night hours
Flexible Schedules
Company backed Health Insurance plans
Voluntary Dental & Vision Plans
Vacation Pay (eligibility after 90 days) Full & Part-time
Employee Meal Discounts
Bi-Weekly Payroll
Direct Deposit Options
401k plan
Team Member Referral Bonuses
Great Culture & Advancement opportunities
Come Grow With Us!
At Salsarita's we offer more than just great Mexican food. We offer a path to success!! Our passion is to deliver legendary guest experience that only can be delivered by great friendly people. At Salsarita's, the team member role is more than just a job, it's an opportunity. We promote from within! Want to move up in a company? Qualified candidates can be a trainer in as little as 30 days and a member of management in as little as 90 days!!
Shift Schedule:
Flexible schedules. Work anywhere from 4 to 8 hours a day, 2 to 7 days a week.
What we're looking for:
Someone with a friendly, enthusiastic attitude
Someone that loves to help and serve others (both customers and team members)
Someone ready to learn how to cook
We welcome experienced restaurant professionals and novices alike. You can be up front and center working with the customers or if you like to be behind the scenes, we can use you for food prep. We'll provide the training you need to feel confident working at any station – grill, cashier, prep, salsa and expo. We take pride in our exceptional customer service and it's up to each of our team members to create the friendly atmosphere that our customers expect and enjoy. So, whether you have experience as a dishwasher, cashier, server, host, bartender, cook, prep cook, FOH/BOH or no experience at all, we're always looking
What some of your job responsibilities will be:
Maintain a fast speed of service, especially during rush times
Take orders from customers and input their selections into the restaurant's computer systems
Assemble orders on trays or in bags depending on the type of order
Process large orders for events
Count down your till at the end of each shift and deposit money in the safe
Clean your station thoroughly before, during and after each shift
Respond to guest questions, concerns and complaints and make sure they leave satisfied
Follow all restaurant safety and security procedures
Arrive on time for all shifts and stay until shift completion
Apply online easily now to be considered!
Company Information
Since our beginnings in Louisville, KY in 2005, we have made fresh food daily, served by a staff with exceptional customer service. Every day, our team works effortlessly to provide the freshest ingredients for our guests, with hand-mashed guacamole, house-made salsas, flame-grilled proteins and more. We pride ourselves on quality food and great service that keep our guests coming back. Today, Salsarita's has locations in 18 states, and we have no plans of slowing down anytime soon.
If this sounds like the right fit for you, apply today!
Apply now through HigherMe
Salsarita's 2021. EOE All Rights Reserved.
To apply for this job please visit yahoo.com.