Description
Catering Supervisor
You will be a part of something special where you will have the opportunity to connect with our amazing customers, impact our growing business, and most importantly serve local communities. This job is a business to business and brand ambassador for Salsaritas Fresh Mexican Grill. We are hiring immediately for a catering supervisor to join our team! Part-time and full-time positions available.
A catering supervisor handles customer service, production and sales for an individual who is organized, detail oriented and focused on giving great service, has a thorough knowledge and understanding of the Salsaritas catering specific menus. Take, place and prepare catering orders and teach others to do so effectively. Maintain accurate and detailed customer database, collect payments and follow up with catering clients to ensure satisfaction. Participates in community marketing and builds strong relationships to expand the catering business. Keep work area neat and clean while following all safety and sanitation procedures. Display an ability to interact positively with all team members, managers and clients on a consistent basis.
About the Hospitality Lead position: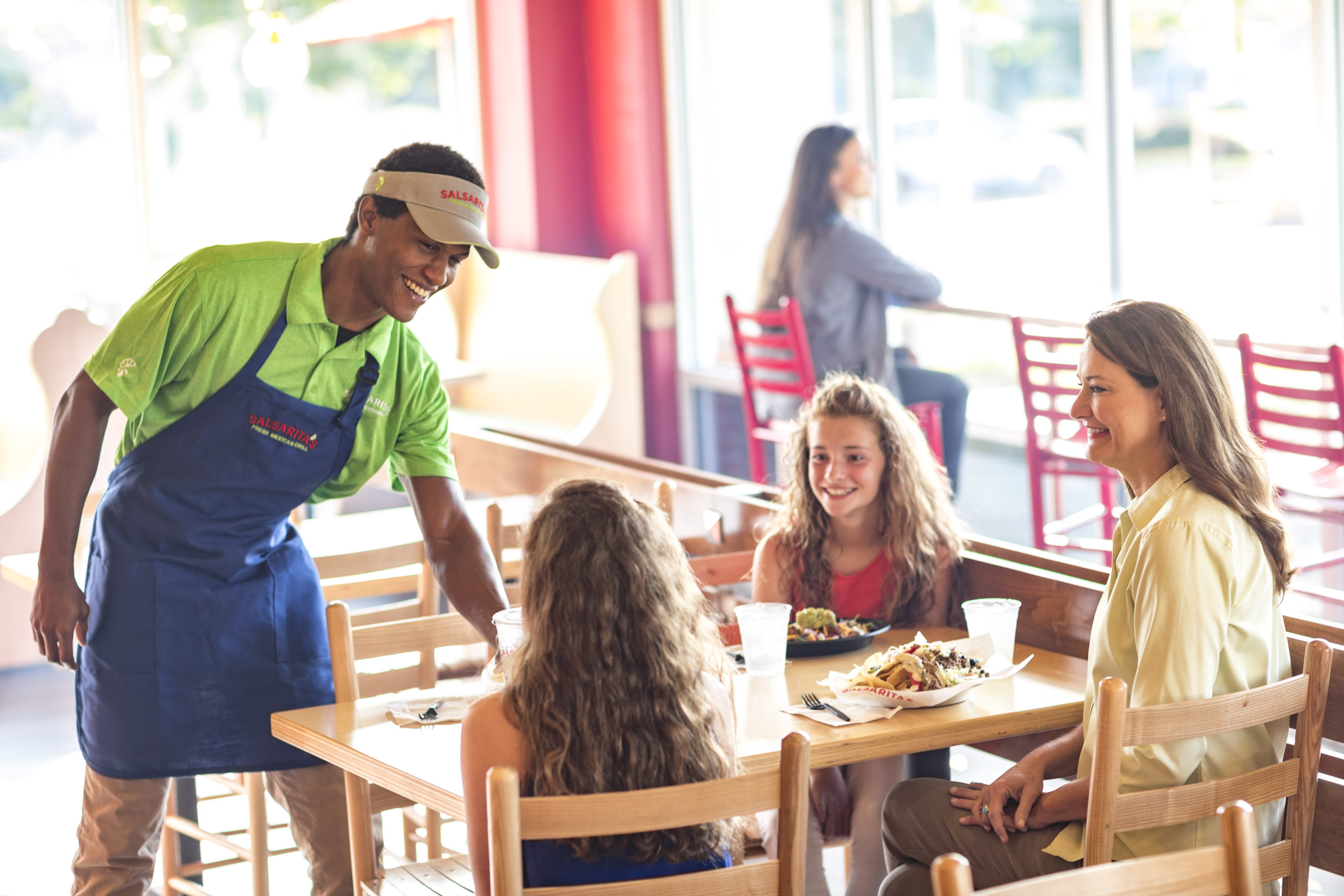 As a Catering Lead you will have a thorough knowledge and understanding of the Salsarita menu
Ensure our great food is setup, delivered timely and accurately
manage delivery drivers
Know the needs of our customers and provide appropriate communication to ensure satisfaction
Strive to be the best with a commitment to providing quality service and products to our customers
Work as a team player with a passion for continuous learning
We're looking for:
Great communication and people skills
Food service or retail experience preferred
Minimum age – 18 years of age
Why Salsarita's?
Competitive Wages $14 to $16
Excellent Team Member Tip Program in addition to Base Wages
Great Store Hours, no late-night hours
Flexible Schedules
Company backed Health Insurance plans
Voluntary Dental & Vision Plans
Vacation Pay (eligibility after 90 days) Full & Part-time
Employee Meal Discounts
Bi-Weekly Payroll
Direct Deposit Options
401k plan
Team Member Referral Bonuses
Great Culture & Advancement opportunities
OUR responsibilities include:
Weekly Brand Presentations to build sales
Genuinely Engage with Our Customers and build Long Term Loyal Relationships
Maintain an Active Presence at catering events.
Light administrative duties: data entry, emails and phone calls in a timely manner.
Requirements
Outgoing/friendly personality
Team player
Able to work in a fast-paced environment
Able to lift 30 lbs
Previous experience in the fast food industry a plus but not mandatory
Must be legally authorized to work in the United States
Company Information
Since our beginnings in Louisville, KY in 2005, we have made fresh food daily, served by a staff with exceptional customer service. Every day, our team works effortlessly to provide the freshest ingredients for our guests, with hand-mashed guacamole, house-made salsas, flame-grilled proteins and more. We pride ourselves on quality food and great service that keep our guests coming back. Today, Salsarita's has locations in 18 states, and we have no plans of slowing down anytime soon.
If this sounds like the right fit for you, apply today!
Apply now through HigherMe
Salsarita's 2021. EOE All Rights Reserved.
To apply for this job please visit yahoo.com.