Caring for the Community: Charlotte, NC

At Salsarita's, we don't just appreciate our local communities, we rely on them. Our restaurants are owned and operated by members of the community just like you and when you face adversity, so do they.
When times get tough, we've seen our communities rally around us and we wanted to pay it forward the only way we know how… by providing fresh quality ingredients to the people who deserve it most. We are proud to have provided meals for the members of our local communities that rise above when the time calls. Right now, we can't think of anyone more deserving than our healthcare workers.
During these uncertain times, the reality for healthcare workers has drastically shifted. Their long hours have become even longer, the risks they subject themselves to have become more severe, and the environment in which they work has become increasingly uncertain day-by-day.

The team at Novant Health-GoHealth Urgent Care are not just working on the front lines, they are the front line. With 10 centers here in Charlotte, North Carolina and 150 nationally, they are actively testing patients for Covid-19 each and every day. Aside from the pandemic, these urgent care centers are still open and treating other urgent health matters.
On Thursday April 9, Salsarita's Charlotte locations donated individually-packaged Boxed Lunches to 60 doctors, nurses and urgent care center staff. These employees work 12-hour shifts, so they were very appreciative for a much-deserved break (even if just a few minutes) and free lunch.
Do you know of a group of deserving citizens in your community? Let us know!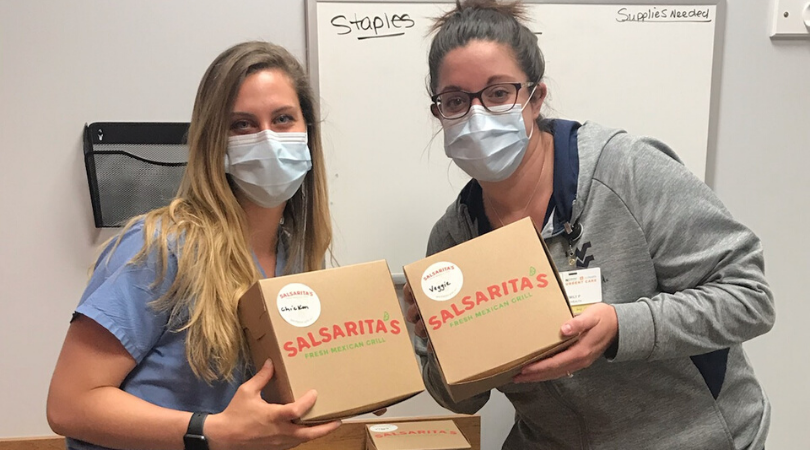 About GoHealth Urgent Care
GoHealth Urgent Care is one of the country's fastest-growing, largest and most technology-forward urgent care companies. At GoHealth Urgent Care, we provide unparalleled experiences that are effortless, personal and connected through partnerships with market-leading health systems and our communities as a whole. GoHealth Urgent Care operates approximately 150 urgent care centers in the greater New York metropolitan area, the Portland, Oregon-Vancouver, Washington metropolitan area, the San Francisco Bay Area, Hartford and South Eastern Connecticut, Winston-Salem and Charlotte, North Carolina, St. Louis and Springfield, Missouri, Oklahoma City, Oklahoma, Northwest Arkansas and Delaware. GoHealth Urgent Care is a TPG Growth portfolio company, the middle market and growth equity investment platform of TPG, which has more than $103 billion of assets under management. To learn more, please visit www.gohealthuc.com.