As you're perusing the line at your local Salsarita's restaurant, the number of combinations can seem daunting. Between multiple flame-grilled meats, house-made salsas, and fresh toppings, there is always a different 'recipe' to try. But that doesn't mean we aren't looking for ways to shake things up! Here at Salsarita's HQ, we're constantly testing, experimenting, and sneaking in new items into a few of our restaurants. Some items go on to live on our menu, return as seasonal favorites…. While some never go on to anything.
Here are just a few of the items we've tested:
BOCA Veggie Ground Crumbles
As a delicious alternative for our vegan and vegetarian guests, BOCA was a hit! You may just see this in a store near you soon. 😉



Cholula Mac & Cheese
Cholula Hot Sauce + Mac & Cheese = heaven. Would you try this wacky concoction?



Steak Fajita Torta & BBQ Chicken Torta
A torta is a Mexican style sandwich featuring a crispy bread.



Bacon Guacamole
Imagine our house-made creamy guacamole with chunks of real crispy bacon. The reviews were mixed, so the guac was nixed!



 

 

Avocado Crema
Just like it sounds, this was a limited test of a creamy avocado-based sour cream with our own blend of spices!



Jalapeno Cheddar Tortillas
Added a little flavor to your typical flour tortilla with rich cheddar and a kick of heat from jalapenos.



Crunchy Burrito Bowl
Our favorite menu item is a burrito bowl but so are our freshly fried salad shells – so we married the two and created the ultimate indulgence! This test ended up staying on the menu – order one today!



Cholula Corn Salsa
What started out as a simple salsa test turned into one of our best selling salsas of all time. The Cholula Corn Salsa did so well during our initial taste tests that it immediately went to market and has been selling like crazy ever since. Have you had it yet?



Citrus Coconut Shrimp
Crispy fried shrimp that packed a punch of citrus flavor!

Baja Beer Battered Fish
Classic beer battered fish for tacos, burritos, and more!



Chicken Chorizo Chimi
Spicy chicken and chorizo wrapped in a chimichanga, aka fried burrito. Whoa.



Pineapple Guacamole
We merged two Salsarita's favorites (guacamole and pineapple salsa) – adds a fun fruity twist on a tex-mex classic.



Mexican Street Corn Queso w/ Mango Puree
While it may sound strange to add mango puree to a cheesy queso, this custom recipe was amazing! It was super cheesy and the chunks of fresh corn made for the perfect texture.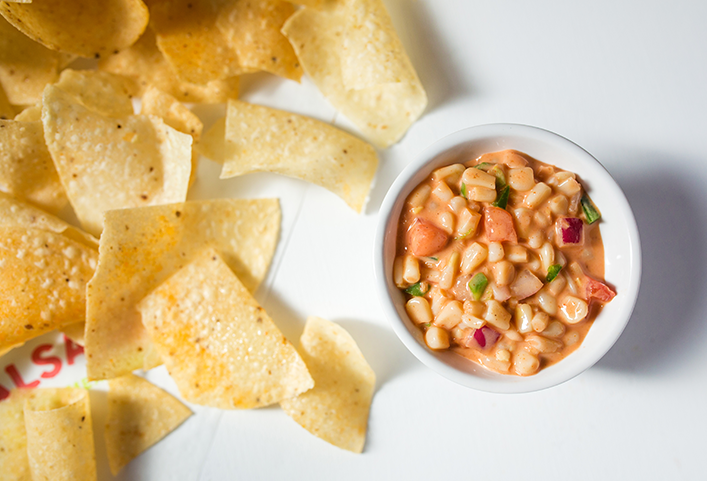 While this list is just a small sampling of what we've tested – we're always on the lookout for the next best thing. What item would YOU like to see tested at your local Salsarita's?