How are your New Year's Resolutions going? With the first full month of January coming to a close, we hope you're still reaching for your goals! If your goal is to get healthier this year, we are so excited to help put together a Goal Guide for eating at Salsarita's.
Whether you're Whole30, Keto, Paleo-ing or any other nutritional journey, we've put together a handy list of things that are compliant, approved, and ready to eat. 
*These suggestions are just that.. suggestions. Always consult with your store directly if you have more sensitive food allergies or concerns.*

Keto Diet at Salsarita's
Growing in popularity, Keto Diet is a low-carb, high-fat based diet plan. There are lots of keto-friendly options at Salsarita's! Want to see a first-hand experience of eating at Salsarita's on the keto diet, follow a fellow keto fan Morgan as she walks through her order!
What's Allowed:
Flame-Grilled Steak
Grilled Shrimp
Grilled Chicken
Shredded Pork
Fajita Veggies
Lettuce
Tomatoes
Cheese
Salsa (Hot and Mild)
Pico de Gallo
Guacamole
Red Onions
Black Olives
Tomatillo Salsa
Cilantro
Sour Cream
Whole30 at Salsarita's
As one of the more stricter diets on the scene, Whole30 is great for anyone looking to eliminate certain foods that may trigger issues, reactions, and more within the body! Whole30 restricts the consumption of certain oils such as canola or soybean. Some of our restaurants do use soy-based oils to cook their proteins. Depending on how closely you're following the guidelines we recommend going with a vegetarian bowl made with the below options!
What's Allowed:
Lettuce
Tomatoes
Salsa (Hot and Mild)
Pico de Gallo
Guacamole
Red Onions
Black Olives
Tomatillo Salsa
Cilantro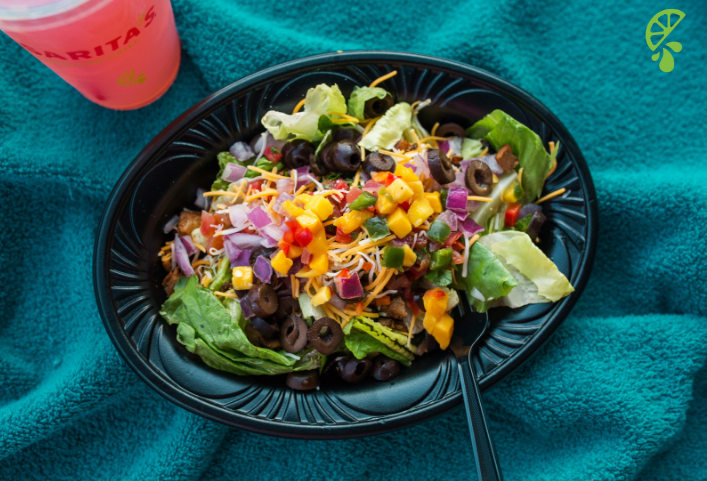 Paleo at Salsarita's
Centering around eating natural, clean, and healthy foods, the paleo diet has been a staple in the nutrition and fitness world for years. With a focus on eating meats and veggies, we've got both of those covered for you. However, just like Whole30, if you're following the paleo diet closely, you may want to go for a vegetarian meal due to the soy-based oil sometimes used in preparation of meats and fajita veggies
What's Allowed:
Lettuce
Tomatoes
Salsa (Hot and Mild)
Pico de Gallo
Guacamole
Red Onions
Black Olives
Tomatillo Salsa
Cilantro
Grilled Chicken, Steak, or Shrimp (contains soybean oil)
Clean Eating Resources at Salsarita's
Want to be a guest blogger? Email us at [email protected]